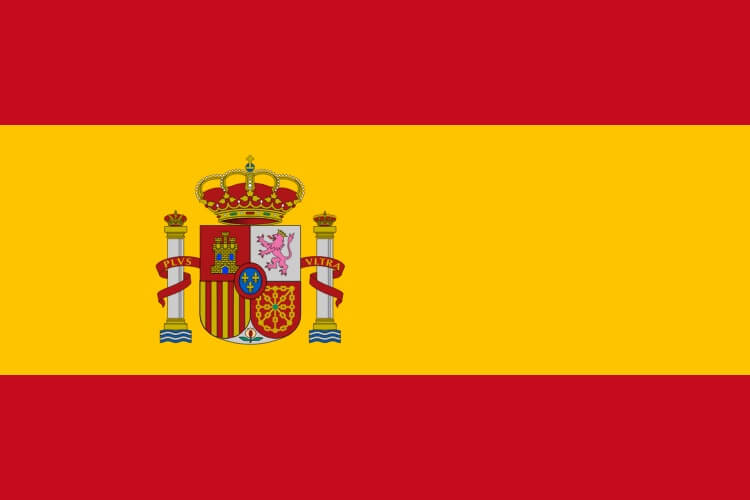 Spain
The Kingdom of Spain is a transcontinental country and member of the European Union. It is located to the south of western Europe and to the north of Africa. Its territory is organized into seventeen autonomous communities and two autonomous cities, with diverse geography and cultures.
In Europe, it occupies most of the Iberian peninsula, known as peninsular Spain, and the archipelago of the Balearic Islands (in the western Mediterranean sea), and two autonomous cities (Ceuta, Melilla) and an autonomous region (the Canary Islands) in Africa. The peninsular territory shares land borders with France and Andorra to the north, Portugal to the west and the British territory of Gibraltar to the south. In its African territories, it shares land and sea borders with Morocco.
It is inhabited by 46 million people. Its capital and most populated city is Madrid, with over 3.1 million inhabitants. Other important cities include Barcelona (1.6 m), Valencia (800,000) and Seville (700,000). Its official language is Spanish, along with four co-official regional languages, Catalan/Valencian, Basque, Galician and Aranese. Its official currency is the Euro (EUR).
The Spanish economy is the thirteenth largest worldwide by nominal GDP and the sixteenth by Purchasing Power Parity. Its main economic sector is services, with a large commerce sector, while it is also a global tourist power: it is the third most visited country in the world, with 75.3 million tourists in 2016, while it is the second in income from tourism. The country also has a large financial sector, with two Spanish banks among the top thirty worldwide by market capitalization.
Regarding its primary sector, its main crops are wheat, barley, sugar beets, corn, potatoes, rye, oats, rice, tomatoes and onions. The country also has extensive vineyards and orchards of citrus and olive trees, being a large producer of oranges, wine and olive oil. Its main livestock is porcine, sheep and cows. Fishing also has a relative importance with sardines, hake and whiting, cod, anchovy, tuna, shrimp, squid, octopus and mussels constituting its fishing fleets most common catches.
Its main industrial sectors are textiles, steelworks, motor vehicles, chemical products, petroleum refining, cement, food, beverages and transport materials, with special importance placed on its automotive and aeronautical industries. The energy sector is highly dependent on imports, although Spain is a world leader in wind power.
At Flag Theory, we're here to help you during every step of your internationalization and structuring plans, and are constantly researching the best global locations to increase your privacy, freedom and wealth.
If you want to set up a company, open a bank account, immigrate and/or obtain residency permits in Spain, you can view some of the articles and more information about the country below, or get in contact with us directly for a free private consultation.