Uruguay – A place you can pay NO Taxes and get a 2nd passport…
Posh nightclubs, expensive boutiques, 4-star hotels stacked up beside a crowded beach. Europe springs to mind. Miami, Barcelona, Monaco, Ibiza… but for 3 months each summer in December, the rich and almost famous head to see and been seen in Uruguay, at the beachside town of Punta Del Este. Walking down the street, its hard not to feel like you are in Europe. Indeed, Uruguay has a much more European feel than probably every other place in the Americas – due in no small part to the countries close ties to the motherland of Spain across the Atlantic ocean. Here we tell you some advantages of living in Uruguay and how easy it is to get a passport to Uruguay.
Uruguay isn't a large country (about the size of Oklahoma) but it is the most developed in all of South America, and sports the richest citizens with the average GDP per capita hovering around 15,000 – and Uruguay is also a place where it is possible you can pay effectively NO TAXES, and get an alternative travel document.
A favorite destination for Brazilians, Chileans and Argentinians with cash and time to burn, Uruguay is a good option for:
Citizenship and alternative passport (in as little as 3 years)
Tax flag residence (by spending 183 days in country)
Playgrounds flag (if you enjoy warm beach weather in December)
Banking (high percentage) or form a tax-free company.
Citizenship Timeline
Many people have been significantly delayed in the citizenship process, even after investing time, money and energy in Uruguay. The citizenship in Uruguay process is not something where you can show up for a weekend, apply for documentation, hit the road, and tell your lawyer to call you. The government wants to see that you make a commitment to the country, and even will go and check up on you.

It will take approximately 3 years for a married couple, with a good amount of time spent in the country. For singles, it will take 5 years – with a similar amount of time in the country. This makes Uruguay more attractive for married couples rather than a single applicant.
Uruguay wants you to prove your residence by documentation – sometimes odd documents such as a doctors appointment slip, a library card. The idea is that they really want you to prove you are actually living in the country. This documentation is again, not always what you might expect – so document everything and when in doubt – shoe box it.
After you have received permanent residency, you should talk to an abogado about citizenship and travel document options. Again, permanent residency is required to be able to receive any kind of travel documents. Further, a cedula is somewhat considered a travel document as well and can allow you to get around South America in many instances.
Strong Travel Document
An Uruguayan passport is one of the strongest in the world. Under this passport, you can visit Europe visa-free, and most Uruguayans have a 10 year American visa.
Recently, there have been talks with the United States, as one of the American representatives came and negotiated visa requirements with the USA.
You can travel easily in Asia, and most Arabic countries. However, there are almost no Chinese, Arab people living in Uruguay.
Tax Rules in Uruguay
If you spend 183 days IN the country you qualify as a tax resident and receive 5 years tax free
Tax Residence – The country has one of the best tax residency laws in the entire world. For foreigners who become official tax residents – by living in the country for more than 183 days in a calendar year – it is possible that you there could be an exemption on foreign income for 5 years. (your personal tax affairs may vary, and this is not advice).
After 5 years – you pay just %12 on foreign income from interests and dividends and capital gains, pensions and retirement or lease income are excluded.
No double taxation
If you have already been taxed %12 or more in income tax to another country, you will not be taxed again. Uruguay is very fair on this matter, and implements a unilateral recognition of foreign tax payment, and you will not face double taxation,
Uruguay has a government that is smart. They get what works. Recently the country has had a few small-time gangs move in that were selling mota or marijuana in the country. The response was not to create a war like in Mexico – but to eliminate the marketplace by legalizing the plant and creating a legal alternative to customers, thus making the black market too expensive to survive. A clever way to solve a problem that results in more freedom, and doesn't result in more arrests and violence.
A playgrounds flag – the price of an apartment in Punta del Este will run you about 3x more during the busy season than the rest of the year. And besides the summertime, the town is quite empty and not nearly as entertaining.
Banking in Uruguay
Banking in Uruguay offers a very high interest rate – something you might consider even if you don't want to spend any amount of time in the country. This is an important assets flag that will generate a sizeable return on your income when compared to other banking options. Most banks in the Americas and Europe offer laughably low interest on your deposit, whereas Uruguay offers upwards of 10% depending on the bank and specific account. Particularly if you have the swing for private banking, you can get a terrific ROI in Uruguay.
Free trade zone companies are quite interesting, and function extremely well in situations that warrant carefully planned out transfer pricing and arms length transactions. You can set up a company in a free trade zone, and employ citizens (as is required by law) through a law firm which saves on cost considerably. You have an address, phone, fax and several employees. Perfect for billing, shipping, or really any international business.
Uruguay is a civil law jurisdiction, and the path to passport is somewhat different than in common law countries such as the United States. For instance, you can be granted a passport (and official travel document) without being conveyed citizenship.
To Uruguayans, residency and ties to the country is also very important to maintaining the citizenship. For instance, you are often required to buy real estate in Uruguay to qualify, and you can't just sell the property after you have received citizenship.
The land in Uruguay is very high quality for the most part, but it can also be relatively expensive compared to the rest of South America.
Unless you can prove a job or other tie to the country, you may buy land to prove to immigration that you have made a purchase of real estate – the price will be recorded in the paper. You can sometimes use a law office to 'adjust' the price paid, and the price recorded.
Single Applicants get a PP in 3 Years | Married Applicants can get a PP in 5

Uruguay represents a good passport option for married couples, who can receive citizenship about 3 years after a PR card is obtained. Single applicants will need to wait a full 5 years after residency to obtain citizenship, and other options may be better suited. Note: One spouse does not need to be Uruguayan, although this certainly can help.
Uruguay is one of the more expensive countries as a whole in South America – with less expensive citizenship options being found in the countries of Ecuador and Paraguay. Uruguay has a more developed infrastructure, and a little more going on. Some would argue that the price is worth it.
Livin' Chic In Punte del Este
When some people think of South America, they might think of cheap living – but the beachside town of Punta del Este, Uruguay might be the most luxurious place in South America.
During a few months, each summer in December and January the population of this beachfront town swells from about 10 thousand to roughly 150 thousand people. Europeans, Argentineans and connected Brazilians flock to the social scene, the amenities and mostly because it's the place to be.
Outside the busy tourist season, the city is a ghost town. They even shut off many of the traffic lights and essentially close up shop. Punte Del Este is about the only place that is 'happening' in Uruguay, but the country has good natural resources and the countryside is also very beautiful.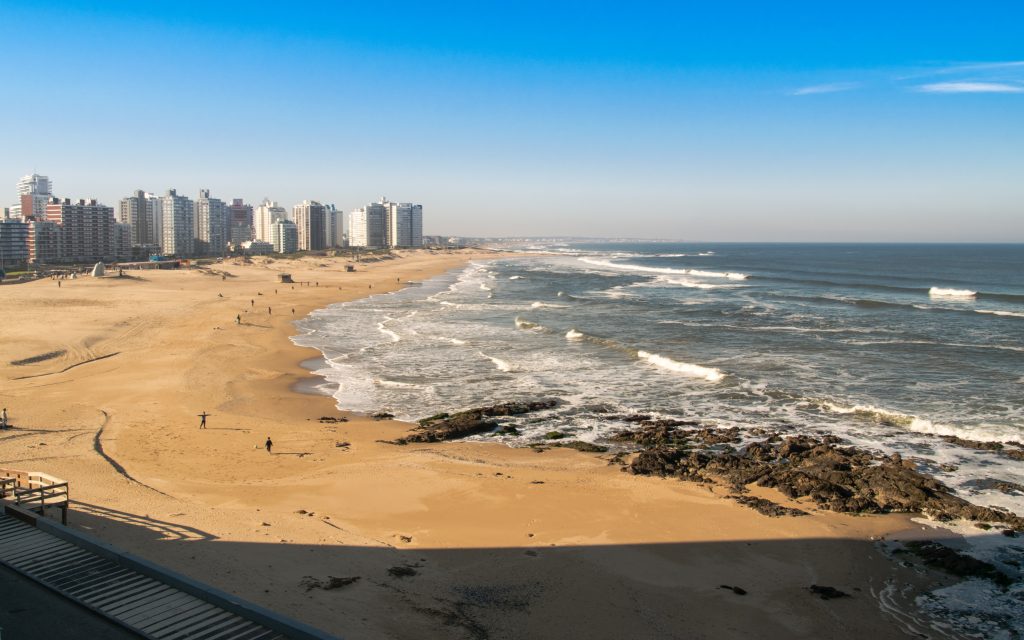 European Vibe
As direct descendants from Europe, it is very common for Uruguayans hold dual citizenship with another European country. Overall, Uruguay has a European feel, and it is clear that the country is proud of its European roots.
Another interesting part of Uruguay is the free trade zone companies. These costs can be expensive compared to other countries, but this company is excellent for transfer pricing purposes. It takes about 6 months to be approved.
Invest in Real estate
Another thing that makes Uruguay great for a residency flag is that you can buy real estate without being a resident.
Nonresidents, residents, citizens, foreign and domestic corporations, and even self-directed IRA's could invest in real estate in Uruguay. If you do consider buying property, it is one of the best places in South America – as the titles are relatively clear, especially when compared to the greater S.A. area.
The Uruguayan countryside has a lot of high quality farmland and Prenader.gub.uy/coneat is a great resource for this purpose. This is a government database of land where you can look at farmland and see each properties rating and even receive a description of the land and appropriate pricing based on different factors.
Uruguay is one of the most developed, well-educated and wealthy countries in South America. The citizenship process is not always quick or easy, from the day you step in the country the fastest time to a passport is 4 years.
Lots of Applications
Uruguay is an option for citizenship or residency flag in South America, but the process it is not exactly easy. The amount of applications has swelled in recent years and like many places, there is a swell of applicants clogged up at a bureaucratic bottleneck just waiting to be accepted.
What is interesting is that a 'passport' or travel document in this instance, can be obtained without full citizenship. A common misconception is that passports are the only documents which can be obtained by citizenship – however, this is not the case.
A cedula (South American travel document) is an acceptable travel document that is granted to people who have been gained official residency status. You actually will get a passport before citizenship in Uruguay, this is because it is a civil law jurisdiction, as opposed to common law. If you want this travel document, you need residency for 3 or 5 years. In order to receive residency in Uruguay, you need to gather a host of documents:
Forms Needed
A copy of your birth certificate, certified by the Uruguayan Consulate
A copy of your marriage certificate (if any), certified by the Uruguayan Consulate
A criminal record certificate (FBI clearance equivalent) from all the countries you've lived in during the last 5 years, also certified by the Uruguayan Consulate
You also need to have a health examination conducted in Uruguay. After this appointment, you will get a Carne de Salud – basically a health card.
You must open a bank account in Uruguay. The requirements for the bank account include 2 reference letters from two different financial institutions (either inside Uruguay or foreign based).
Statement of monthly income. This is a statement of passive income or salary. The requirement used to be just $500 – but now it has grown, and there is no hard and fast line. Probably for a couple the income should be at least $1,500. This last document is important, it should be a statement with the origin of funds – whether it be from passive income, dividends, business, paychecks, pensions – you need to have this documentation.
Statement of the source of income. This is a standard bank opening document that can come from your accountant. Essentially says that you earned this wealth through legal business activities.
Once all relevant documents are provided, within a week the person will get the temporary residence and Uruguayan identity card.
After three months of obtaining the temporary residence, the person is qualified to apply for permanent residence for which and provide proof of address (whether owned or leased property). Purchasing a home can better satisfy this requirement, but it is not a guarantee that you will receive citizenship. Property in Uruguay is more expensive than other areas in South America.
You don't need to prove your stay in Uruguay, but you need to present yourself at the state office personally to receive temporary, and later, permanent residence.
The permanent residence takes about around 6 months, depending on the speed of the public office. During this time you don't need to come to Uruguay. However, there are accounts of the immigration officers coming and confirming residence in Uruguay. So time spent in the country is advised.
According to the law firm we work within Uruguay: "Once the client gets the provisory residence, he can ship property to Uruguay of importation taxes; and does not need to wait for the definitive residence."
If you want to know more on how to get citizenship in Uruguay, you may consider joining our FT Society. You can also compare jurisdictions and get started obtaining a residency permit or citizenship at our free tool passports.io. If you need customized advice, you can contact us or check how we can help you with an integral approach, internationalize both personally and professionally to get more freedom, privacy and wealth.