How to Get an EntrePass in Singapore
Citizenship by Entrepreneurship Series Part II
This series will answer: where can I get residency and citizenship from my business?
If you are looking for a place to start a business and receive residency or citizenship, you can also check out New Zealand, which was part 1 of this series, Thailand[BOI Infographic], The Philippines[ROHQ Infographic].
In a few countries around the world, the governments and politicians that run the land understand the importance of creating legislation that fosters value, innovation, and entrepreneurship. There are even some jurisdictions that have created entrepreneurship programs whereby value creators are granted visas and work permits with a fast lane to permanent residency and citizenship.
Singapore, the unofficial capital of South East Asia, is one such place.
Why set up a Company in Singapore?
Singapore is a beacon of stability that will be the driving spearhead of ASEAN in the coming years and beyond. While the surrounding countries may have larger economies, more people and greater resources, Singapore has established itself as the banking, financial and medical hub for the region. Over half of all foreign direct investment into the region goes to Singapore.
Singapore is an excellent place to plant a flag for gold storage, banking, and more. Singapore private limited companies are also used as holding companies and investment vehicles in other SE Asian countries.
A Singapore (or other common law jurisdiction) holding company, is routinely used for legal structuring throughout South East Asia. Notably, in conjunction with businesses in Thailand, Indonesia, Cambodia and more. You can set up a Singapore company through our Singapore Incorporation Professional Package. More details here.
Circumvent Ownership Restriction
I predict this will become even more prevalent in the years 2015+ as ASEAN opens up. For instance, 70% of an entity can be owned by ASEAN members. Therefore, since you can own 100% of a foreign entity in Singapore (ASEAN) you can use that entity as a holding company of a more restrictive country such as Thailand or Indonesia (larger economies, but typically restricted to 49% foreign ownership). [This is still somewhat unclear, but this is what it looks like at an early stage]
Investment
Furthermore, investors will feel much more comfortable if you have a legal entity in their jurisdiction. Ideally, this holding company sits at the "top of the pyramid" and holds the intellectual property (IP) and shares in any subsidiary operating entities.
Passport With a Singapore Company
A Singapore company can also be used to get a passport. If you play your cards right with a Singapore entity, you can get a work permit, permanent residency, and eventual citizenship by operating a Singapore company.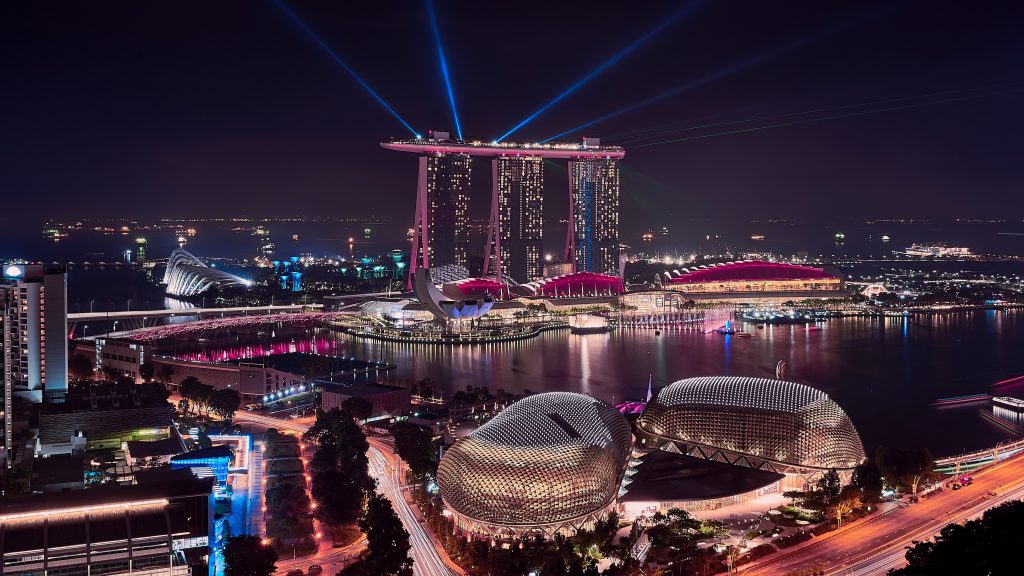 How to get a Singapore Entrepreneur Visa
When starting a company and moving to Singapore, you'll need to get a work permit in order to stay and work. You can receive an employment pass (where your company will employ you), or you can get a Singapore Entrepreneur Pass (Entrepass).
The main advantage of an EntrePass in Singapore is that it is actually considered a different category altogether from a work permit or employment pass, and comes with separate rules and abilities and can provide a fast track to residency or even citizenship.
An EntrePass is a special pass for an entrepreneur, and there have recently been changes (Mid 2013) enacted by the government regarding this pass.
Steps to get an EntrePass in Singapore
One would normally apply for a Singapore Entrepreneur Pass "Entrepass" before incorporation and capitalization. You are allowed to make an application and ensure you are approved. The rule is that you must apply within 6 months of incorporation.
What I did: We incorporated the business and capitalized the company before filing the application of the EntrePass in Singapore.
The Ministry of Manpower (MOM) site has detailed instructions on how to complete the process. However, these don't discuss funding options in great detail, or how to fulfill some other steps that are now required.
Steps
Market Research and Business plan
Seek Investment
Incorporate
Secure Investment
Capitalize
EntrePass business plan + Application
Achieve AIP (Application In Principle)
Bankers Guarantee
Pay fee + Fingerprints
Set Appointment and Collect Pass
Include all supporting documents which might be needed. This means diplomas, degrees, certificates, etc. Accolades and educational degrees are important in this process. Since I incorporated before I applied, I also included a recent bank statement which showed the $50,000 capitalization.
Business plan – If anything, the business plan should focus on the number of jobs that will be created and potentially created as the company grows. Companies that hire people are seen as successful. You will rarely be asked how much you clear in top-line revenue, but you will often be asked how many people you have on staff. Make sure that you don't go over the required amount with respect to the number of pages. Keep the writing succinct, detailed where it needs to be, including financial projections and hiring projections. There are many different places which offer to help with the business plan, I drew ours up myself.
$50,000 Capitalization Requirement – There is a lot of talks that this may increase exponentially in coming years. For now, it is a requirement that the company is capitalized with S$50,000.
Under 6 months old – The company should be under 6 months old. You can't do this if you have been running for several years.
$3,000 bankers guarantee OR Company guarantee. There is an option at this step of posting the bond yourself or having a company guarantee you. Note that you must have it stamped by the company, a person cannot make this guarantee. The bigger the company, the more favorably your application will be looked upon. I had my initial application returned because an individual signed the guarantee, but did not stamp it with a company chop.
Other points
Submit the EntrePass application at any SingPost post office.
A $70 admin fee is charged for each application.
The "Approval In-Principle" (AIP) letter differs from the "In-Principle Approval" (IPA) letter.
The IPA that is issued for approved applications is required for collection of the EntrePass.
EntrePass applications are not only reviewed by MOM, but also the Standards, Productivity and Innovation Board Singapore. This increases the time it takes. It is said that it can take 4-6 weeks. It took me 10 weeks, but this did a crossover with Chinese New Years, which is a major holiday in Singapore.
You can use your Foreign Identification Number (FIN) to check on your application status online about 21 days after submitting the application.
Once you get approved, an In-Principle Approval (IPA) letter valid for six months will be mailed to the applicant's Singapore address as indicated in the application form. This is a very important form, so make sure you store it someplace safe.
AIP received
S$3000 Banking Guarantee
There is a requirement to post an S$3000 fixed deposit in a local bank that is certified by MOM and held for insurance purposes. The order is important: you will go and receive this only after you have an AIP from MOM. The bank cannot set this up for you before you have the AIP. Once you have AIP, you can expect the bankers guarantee within 48 business hours. If you had a company to approve your application, there is no need for this step.
MOM visit, fingerprints, the fee for the EntrePass.
You should do this when you plan to stay in the country for at least 3-7 days because it will cause you huge headaches and a small fine if you leave the country and receive a new entry card. This step is usually very short and you are close to finished.
Submitting an entry card. Card Pickup.
Set a meeting time with MOM. Head down and finish any outstanding requirements. You are done (or just getting started, depending on how you look at it!).
2016+ Requirements
Singapore Entrepreneur Visa REQUIREMENTS For 2017
The government has slightly lowered the bar for hiring and spending requirements, but there is greater emphasis on companies being innovative, and also additional requirements for approval. It is subsequently harder to initial approval, but easier to keep and reapply for Singapore Entrepreneur Visa.
The person must demonstrate the innovativeness based on at least 1 of 4 factors.
Funding/investment from a recognized 3rd party Venture Capitalist or business angel.
Hold Intellectual Property that is registered with an IP institution.
Research collaboration with a recognized research institution.
An incubated company at a Singapore government-supported incubator.
1. Funding
Funding must be strictly monetary and at least $100,000. The applicant should provide Shareholder certificate as supporting document or at least show documentary proof of commitment (such as a term sheet) from VC/business angel on investment from one of the following:
SPRING SEEDS Business Angel Scheme
Contact Singapore Global Investor Programme
2. Registered IP
The Intellectual Property must have completed filing with the national IP institution.
One of the Shareholders must be the original owner of the IP.
The IP must be related to the proposed business conducted in the EntrePass application.
3. Research collaboration
Further, you must meet the following for point 3:
Research institution to provide the government with a contact point.
Only applicants with ongoing research collaboration will be allowed.
Research collaboration must be related to the proposed business.
4.Incubated Company
Only existing incubatee is allowed.
Incubatee's work must be related to the proposed business.
Ongoing Requirements
(From September 1st, 2013):
No. of years
No. of Local Employees Hired *
Minimum Business Spending
1
2
$100,000
2
4
$150,000
3
6
$200,000
4
8
$300,000
5
10
$400,000
*Refers to Singaporeans and Permanent Residents being paid a monthly salary and CPF contributions similar to the industry norm.
Total Business Spending (TBS) is the total operation expense as indicated in the audited financial statements except the following:
a) Royalties/Franchise fees/Know how fees to overseas companies;
b) Work subcontracted to overseas companies; and
c) Remuneration to the applicant and his/her immediate family.
Applicants should make sure they can abide by these requirements.
Set up a company in Singapore
The company is very easy to set up and for most business types, approval should happen in less than a day. With a private limited company, you can even begin to open up a bank account as soon as your register with ACRA.
ACRA
Everything is done through the Accounting Company Regulatory Authority (ACRA) – and although this is a government agency, most people will refer to the online platform as ACRA – because everything to do with a company is done online. From registering shareholders, to formalizing the Memorandum and Articles of Incorporation, all of this is done through an online portal. Unfortunately, as a foreigner, you aren't able to access this portal (as you need a singpass). Therefore, the only way you can obtain access is if you have an EntrePass (or other type of work pass).
Another option is to have a local apply, and serve as your resident director. In any event, you'll need a local director, as this is a requirement of all companies. The local director is the most expensive aspect of incorporating a company in Singapore. This can be upwards of US$3000 with a US$10,000 deposit. In my opinion, the requirement for a local director is very much a positive attribute of Singapore companies. This is very much a place where the law rules, and having someone local who is responsible for the company keeps the parties accountable for the actions, assets and liabilities of the company. Yet another benefit of the EntrePass is that you are not required to have a local director – as you are technically the local director.
However, because I incorporated the company before receiving the pass, I had a local director. However, it is necessary for a company service provider to do this, as they have additional permissions to read/write the ACRA database. Something to note is that for a small fee of $5 you can buy the report of any company in the country. This information isn't available publicly, but it can give you some interesting insights into your competitors, from their financial reports, to shareholding.
++++++++
Singapore is a great place for raising capital, starting a fund, establishing a business and finding a traditional 'onshore' and low-tax jurisdiction with favorable business laws.
Why Set up a Company in Singapore?
Strengths:
Government that supports entrepreneurship with different programs
Many different types of workers and skill sets
No Tax first 3 years >100k profits
If no customers or presence in Singapore – possible to establish 0% tax rate
Everything just seems to "work" in Singapore
Quick and efficient transportation
Great networking opportunities
Small, Connected Society
Center of SE Asia
Weaknesses:
Growing Technological Hub But Not silicon Valley – yet
Expensive for Startups
Hiring costs for technicians can be a burden
Not silicon valley
Cheap Co-Working
There are plenty of co-working spaces, such as the Hub, Scape, The Co, and plug & play.
Expensive Office Space
As far as commercial space goes – your options are limited and space is generally expensive.
Its difficult to find tech talent at a reasonable price.
Skilled locals know they are in high demand, most of the startups are cash rich, and a freelance ruby coder can easily demand 10-20k per month, or more. The coding talent in Indonesia, or further off in HCMC represent more cost efficient pools of talent for hiring. However, there are hiring requirements and rules for bringing in foreign talent. MOM makes it relatively easy to find out if someone can be hired or not. Generally, you would apply on behalf of the foreign employee, and specify which pass he will be hired under.
Even though it is expensive to hire talent, the government introduced new programs that allow SME's to receive partial training and funding assistance.
A word on innovativeness.
Innovativeness doesn't necessarily mean that it attracts investors…
Particularly in Singapore, there is a tendency for "me-too" businesses, such as Doc-Doc for example, which is a clone of western startup Zoc-Doc. There is absolutely nothing innovative at all about this company, but it has attracted funding from the government, it has merged with Dr. Page (another clone, backed by deep German pockets from a Groupon clone exit) and competes with 65 Doctors, similar services at Singaporedoc.com and Doctors.com.sg
Innovation is defined as the application of new solutions that meet new requirements, inarticulate needs, or existing market needs. Cloning and ripping off an existing business model and pivoting to a new market is not innovative. Some investors in emerging markets don't even want a business idea to be innovative – that is for the US market. Many (but not all) emerging market investors would rather fund "fast-follower" type businesses with a large addressable market but a proven business model.
Venture capital opportunities
There are a lot of investors deploying capital for pre-seed and seed rounds. There are a few successful exits. What there isn't, is a culture of successful statups reaching an exit. There is a need for series A rounds. Overall, there is some missing pieces, but it is getting there. Here is a map of the money in Singapore.
Sequoia Capital, one of the most successful VC firms in the world, came to Singapore but they have yet to invest in any Singapore startups. They see Singapore as a safe bridge to Indian or Chinese companies, who they can move to Singapore should they decide to invest, and maintain focus on larger markets, with better corporate governance, and without the burdensome bureaucracy of China or India.
This being said, Singapore is one of the best places in the world to raise venture capital. There is an abundance of capital, and not enough fundable companies. If you have a scalable startup business, are willing to change your HQ, are looking for a place to immigrate, and are seeking venture capital, you should put Singapore on your list.