Malaysia | How to Do Business in Asia – Connection Economy
It's not what you know…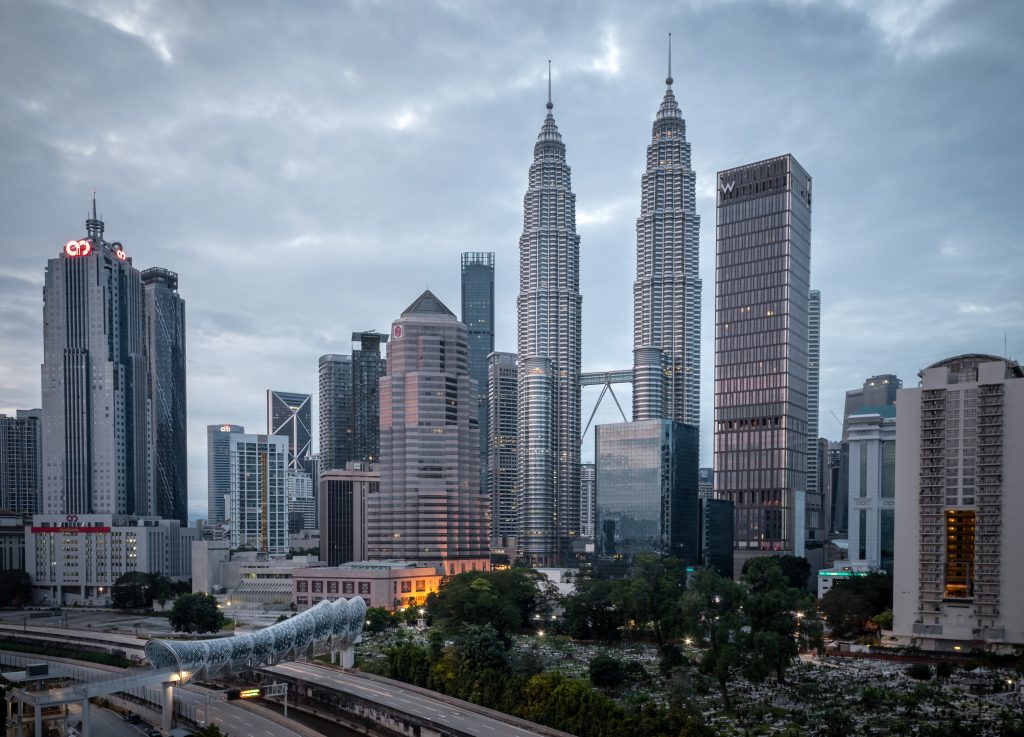 Sunday Febuary 17th – Kuala Lumpur – Malaysia
I'm in Kuala Lumpur for the first time to start forming business bonds in a specific industry. I can't stress enough how important it is to "touch" people when creating a business relationship, particularly in Asia. Americans don't do business like this. We want to examine the facts and move quickly, there is not a need to feel, but to think. However, I have come to appreciate the Asian mentality for doing business, and now like to adopt a hybrid model. More on that in a second – first a brief overview of the strategic flags you can plant in Malaysia.
========
Flag Theory | Malaysia
Malaysia is a solid strategic business hub and there are several flags which can be planted in this country (and its offshore hub Labuan) to great effect.
Malaysia is a predominantly Muslim country (about 64% of the population is Muslim).
Which means that although it's Sunday, I'll actually be able to do some work today and sign papers, instead of just meet and have kopi (coffee)! It never ceases to amaze me how people can be so shocked that I work every day of the week. Only fellow entrepreneurs seem to understand the nature of the business beast requires constant attention. Besides, I love what I do!
Despite being a largely Islamic state, Malaysia's law and jurisprudence are based on English common law, which is a major benefit for doing business.
In general, I won't consider planting most flags in a location unless they have a common law – because the entire base on which the system is based is foreign to me. With common law, I always have a basic understanding of the 'legal alphabet'. I wouldn't recommend college or law school to most youth in the connections economy (besides engineers and doctors), but it certainly has made understanding laws, tax treaties and other semantically complicated documents a lot easier.
Anyway, after meeting with a respected foreign lawyer who runs a law firm here, I've learned about several different fast-track residency, offshore structuring (involving double tax treaties) and other strategic options.
Flag: Residency
Malaysia: The best place in the World to retire?
One could easily make the case that retiring in MY is simpler, easier and comes with fewer hassles (and less taxes) than almost anywhere else in the world. With the proper planning, you can receive a powerful 10 year "social visit visa" with the ability to
opportunity to purchase a vehicle with no taxes & duties
work permit with the option of working 20 hrs/wk
legally own 100% of a business
legally own property in your name.
How much does it cost?
The cost of the processing is negligible, you can do it yourself using this government site as a guide.
You may spend RM500,000 on a property (except in Penang where it is still RM250,000).

You can also spend 350,000 in property and then 150,000 in an investment vehicle. Under most options, you should include support income of RM10,000, from anything, from where the cash and income are proved by supplying 3 months worth of bank statements. This is about US$160,000, and around US$3000 per month, that is supposed to be from a pension. However, one could (i'm not saying you should, but you could) set up standing instructions from another bank to transfer in each month and label the transfer as a pension.
There are other options as well but the aforementioned route is the easiest. This will grant you a 10 year social visa (which could essentially be considered permanent residency, given the length of stay and the various perks that accompany this visa.
Flag: Assets
Maybank has great interest rates, close to 3%. For more security, you might consider a Singaporean bank doing business in Malaysia.
Labuan has strict banking privacy rights. If you are looking for something more private, this might be a good offshore jurisdiction for you. There are also trusts, companies and other legal entities which could be of great use, especially given Malaysia's robust dual tax treaties with other countries around the world.
Flag: Physical Land
It seems to be that property rights here are more secure and easier for foreigners to obtain than other areas of ASEAN. It may still be advisable for property investors to obtain title insurance, pursue a purchase through a trusted agent, and perhaps own the real estate in an approved legal entity. However, when contrasted with other favorable retirement visa options (Panama and Ecuador are two such places) Malaysia has much better property rights in my opinion.
Just Visiting? | Where to stay?
If you aren't ready to shell out cash for a property and just want to check out the country, try this boutique hotel at $40 per night or the Le Meridian for about $150/ night. Nice hotel, reasonable price, but very far away from the action… I enjoyed the boutique hotel, but make sure you look for something good as the places vary in quality considerably.
The ideal way to do business in Asia
1st meeting
Meet for drinks. Whoever initiated the interaction or is requesting something should pay.
2nd meeting
Meet for a meal. The venue is more important. The amount of extravagance (or lack thereof) displays the importance of the meeting to the other person, as well as the degree of success they've achieved.
At first, I was hesitant to this (it can seem like it takes a while to get anything done!) however, now I'm in the opposite camp. If we need to do important business together, I want to get to know you. People do business with friends, and if I don't like you on a base level as a person, I'm quite happy to pass up your business and help others who I like!
3rd meeting | onwards
Paperwork, focus, what needs to get done. MOUs and NDAs and RFPs and IOUs galore. Acronyms should be adjusted to the corporate nature and size of both persons/businesses. Bring your pen, your laptop, and bank security device. Handshakes and Wire transfers. Stuff gets done. The venue should be in the office or ideally on neutral ground.
From here on, the relationship should be fostered and solidified by both friendship and pecuniary exchange, for the mutual benefit of both parties.
There are, however, certain customs which are common and should not be ignored. For instance, in China-influenced countries (Singapore, Hong Kong, PRC) you should hand a person your business card with both hands, and accept with both hands.
Making Business Connections in Asia as a Foreigner
I've done business in many different countries and cultures around the globe, and compared to the United States – it is dramatic how different the importance of meeting people in person is in Asia.
The interesting thing about making connections is that it is oftentimes a crapshoot. People can waste your time, others have nothing to offer, and its difficult to come across as genuine when you are busy playing a game of social Darwinism.
The best thing you can do is meet as many people as you can, come with no expectations, and see what you can offer to them, first. I'm constantly trying to help my network create new bonds, forge new business, and create new value. This is particularly difficult as a foreigner in a new land, but sometimes you can have an instant bond with ex-pats in these type of places.
Pay To Play
In all parts of the world, there are certain connections that are exceptionally valuable, who need to be paid for their time. If someone can offer you specialized advice, they should be paid for on an hourly basis. Particularly if the longer term repercussions of that advice is worth much more, there should never be an issue. You should simultaneously feel like you are paying a lot, but are also getting a bargain. The right connectors often have exceptionally strong networks and can refer you onwards to receive specific servicing for your exact needs.
In what Seth Godin describes as the connections economy, WHO you know is more important than ever. A colleague I look up to, Derek Sivers would agree: even though the acceleration of technology is making things like money, healthcare and information free-flowing and borderless – who you know around the world is of tremendous value. Who you know within a country is very important for establishing a flag, particularly a profitable business.
I think that we haven't seen the end of the connections economy; we are barely on the brink. Although the internet has changed the world forever, we are just getting started. Now is an exciting time to be alive.
I'm working on putting something together that will allow PT's and other expats to join in an online community to privately discuss matters of importance, meet, and share connections. Watch this space.
For now, is there a connection I can make for you?