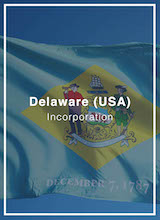 Incorporate in Delaware (USA)
Delaware is one of the world's most popular jurisdictions to incorporate a company. Nearly half of US publicly traded companies and more than 65 percent of all Fortune 500 companies are incorporated in Delaware. Including giants such as Apple, Coca-Cola, Google, and Wal-Mart.
Delaware stands out for its separate Court of Chancery, the oldest business court in the US, specialized corporate law cases. The Court of Chancery use judges instead of juries and are usually expertized in complex corporate law matters.
Delaware Court maintains the most advanced and up-to-date case law, that allows for predictability and therefore decreasing liability and litigation among Delaware companies.
These predictable laws allow corporations to make better assessments of the probable outcomes of litigation or the advisability of settling a case.
The legal and liability protection of established corporate laws in Delaware makes the jurisdiction one of the most reputable business-friendly states.
The State of Delaware has also an attractive tax regime. Delaware corporations doing business exclusively outside of the State are exempt from State tax. Furthermore, there is no inheritance tax on stock held by non-Delaware residents, no state sales tax on intangible personal property and share of stock owned by non-residents are not subject to Delaware taxes.
Companies incorporated in Delaware are confidential. Details of shareholders, directors, and officers are not disclosed in the company formation documents and are not available to the public.
Delaware corporations are flexible structures, the same person may be the sole shareholder, the director, and the officer.
In addition, it has one of the quickest company registration procedures and lowest costs of incorporations in all United States.
Delaware is an excellent jurisdiction for startups and companies seeking financing. Venture capitalists, angel investors, investments banks and other investors prefer Delaware corporations above all other states and corporate structures.
Delaware Company (LLC/Corporation) Formation – USD 600.00 (All Included)
Preparing and Filing the Certificate of Formation/Incorporation with the Secretary of State
Providing the filed Certificate of Formation/Incorporation, and the Authorized Person Statement resolving the appointment of First Manager/Director and Resignation of Rights
Delaware Secretary of State Registration Fees
Providing Registered Office Service, including Service Address
Providing Registered Agent Service
Drafting Operating Agreement, including unlimited reviews, Resolutions of Members, Register of Officers, Register of Members, and producing Membership Certificates (LLC) / Drafting Company Bylaws, including unlimited reviews, preparing First Board Resolutions, and producing Registers and Shares Certificates (Corporation)
Preparing and filing SS4 Form for the obtention of an Employer Identification Number (EIN)
Time to form the company
After receiving the proposed company details from the client, the certificate of formation/incorporation is prepared and filed with the Secretary of State. It generally takes 3-4 days for the Secretary of State to release the stamped certificate of formation/incorporation. The post-incorporation documents are prepared in the same day. If the company is filed via the expedited procedure (additional USD 150 government fee), the stamped certificate is issued in the same day of filing.
US Bank Account Opening Services (Optional)
We assist you in opening a bank account in USA.
USA Bank Account - USD $ 1,400.00

USA Bank Account

Bank

Min Deposit

Cards

Currencies

Remote

Comments

USA Bank Account

USD 100,000

No

USD

Yes

min deposit USD 100k and more AND/OR with revenues of USD 1M

USA Bank Account

USD 500,000

No

USD

Yes

USA Bank Account

USD 100,000

Yes

USD

Yes

USA Bank Account

USD 5,000

Yes

USD

Yes

The company should trade in Asia and the USA.

USA Bank Account

Typically USD 25,000 - USD 50,000, for high risk USD 500,000

Yes

USD

Yes

At least one US based signatory is required. Purpose to open an account in US is required.

USA Bank Account

Case by case (from 10,000 but preferred 250K-300K)

Yes

USD, Multicurrency

Yes

They tend to focus more on technology/startup companies that are focused on growing and scaling through future equity raises and subsequent debt facilities.
Note that we can also open overseas bank accounts for USA companies in the following offshore jurisdictions:
Puerto Rico Bank Account - USD $ 300.00

Puerto Rico Bank Account

Bank

Min Deposit

Cards

Currencies

Remote

Comments

Strategic Bank

USD 150,000

No

USD

Yes

Arival Bank

N/A

No

USD

Yes
Delaware Company Annual Fees – USD 650.00 (payable every February for Corporations, and every May for LLCs)
Filing the Franchise Tax Report
Delaware Franchise Tax
Providing Registered Office Service, including Service Address, for one year
Providing Registered Agent Service for one year
For corporations, the above fees assume that the company is authorized to issue a maximum of 5,000 shares. If the company is authorized to issue a greater number of shares, Franchise taxes will be higher.
Additional Services (Optional)
Obtaining ITIN for LLC/Corporation Members
Sales Tax Registration and Obtaining Resale Certificates
Preparing and Filing Federal Tax Returns and Form 5472
Accounting Services
Please, contact us for further information.