Need a second passport? St Kitts & Nevis Citizenship by Investment Program
UPDATE September 2019: This article has been refreshed with updated links and information. Obtaining St Kitts & Nevis citizenship remains one of the most popular, attractive and affordable citizenship by investment programs available. 
The Federation of St. Kitts & Nevis is the smallest sovereign state in the Americas. Located in the West Indies in the east Caribbean sea, the federation unites the islands of St. Kitts and Nevis, but each retain their own separate legislation.
The English-speaking islands remain under-developed by Caribbean standards, but tourism, the principal economy of the islands, has been growing steadily, bringing with it new hotel and resort developments. Both islands have international airports, and two ferry lines connect the two.
St. Kitts and Nevis is one of  a handful of countries in the world that offer instant citizenship by investment. There is no requirement to spend time in-country, and there are basically two paths to acquiring citizenship and ultimately a passport from the country;  a one off donation, or an investment in real estate.
At Flag Theory, we are working with our bank partners in St Kitts & Nevis to assist you in obtaining funding for a St Kitts and Nevis citizenship by investment loan with advantageous conditions. If you are interested in getting funding to apply for St Kitts and Nevis citizenship by investment, contact us at [email protected] or fill out this form, to receive more details, financing conditions and requirements.
If you want to get started with acquiring a St Kitts & Nevis second passport, apply now at passports.io.
Option 1: Donation to the Sustainable Growth Fund
The first option is a one- time donation of minimum $150,000 to the "Sustainable Growth Fund" (SGF). This will allow applicants to begin the relatively fast CBI program. 
The costs are $150,000 for a single applicant, $195,000 for a main applicant and spouse, and an extra $10,000 for each additional dependent.
Option 2: Investment in Real estate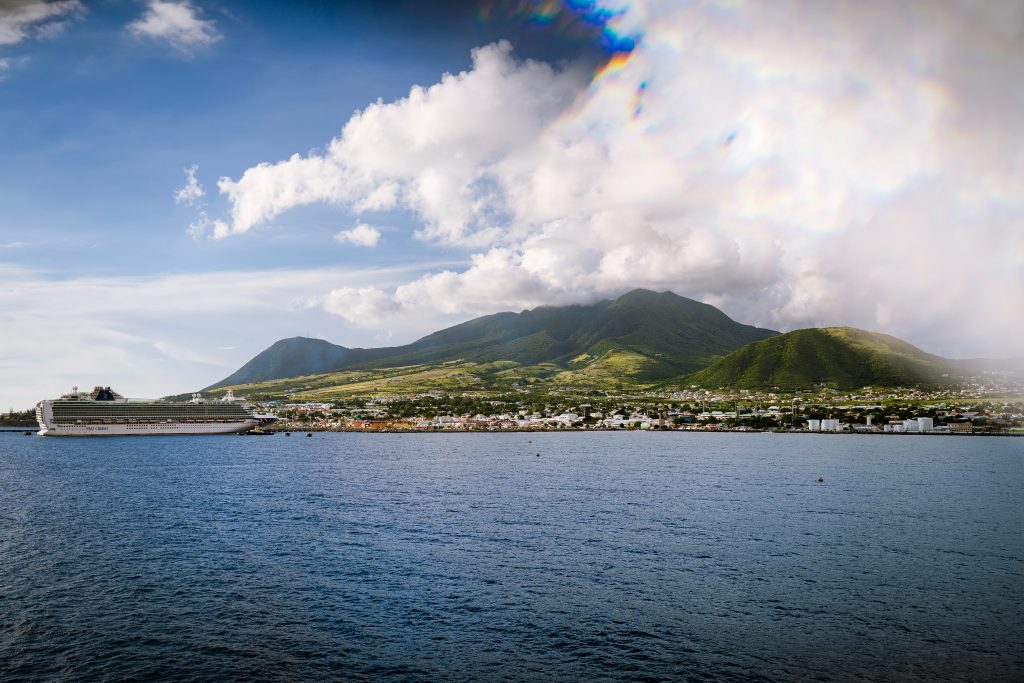 To apply for a St Kitts and Nevis citizenship by investment under this option, you must invest a minimum of $200,000 in a qualified real estate project worth at least $400,000
. The investment can be made with another applicant for citizenship, and will need to be kept for a minimum of 7 years. Alternatively, a single applicant can qualify if they make an investment of $400,000, and such an investment can be sold after a minimum of 4 years.
Should you decide to move forward with the application process, funds for your investment are placed in escrow. They will only be released if your application for citizenship is approved.
By making this investment, you can qualify yourself, as well as your spouse, and any minor children under the age of 18 for citizenship.
You can also apply for your children aged 18-25 that are enrolled full-time in a university, as well as adult dependent children or parents.
You won't have to live in the housing you have purchased – in fact, you can rent it out. Many projects have built-in property management, and the real estate can even pay for itself.
Certain projects will even give you cash back on your real estate contribution – for instance, you come up with the $400,000 and they then return $200,000 to you as you can strip equity on the property.
Your only obligation is that you must hold on to the property for between 4-7 years (depending on the investment amount), after which you can sell it. The person who buys the property from you can even receive citizenship.
There are dozens of qualified developments, ranging from one-bedroom units for a minimum investment of $200,000 to multi-million-dollar villas with spectacular ocean views.
There is something for everyone, and it is even possible to arrange a fractional ownership scheme where you can go in with other investors, to collectively buy more real estate. For instance, you could buy a one-quarter share of a $1.6 million beachfront villa for $400,000.
Other qualified investments for St Kitts and Nevis Citizenship by investment include timeshares, raw land, and even yacht slips.
The program was streamlined in 2012 – with the government now promising a decision within three months of filing an application.
See the table below for a breakdown of costs.
St Kitts and Nevis Citizenship by Investment – Estimated Costs (USD)

Real Estate option
Single applicant
Applicant & spouse
Applicant, spouse & 2 children 16-17
Applicant, spouse & 1 child 18-25
Consulting fee

1000

1000

1000

1000

Application fee

293

585

1170

879

Courier fee

120

120

120

120

Legal fee

20000

20000

20000

20000

Escrow fee

500

500

500

500

Security fee

7500

11500

19500

15500

Passport fee

250

500

1000

750

Minimum purchase

400000

400000

400000

400000

Est. closing costs (7%)

28000

28000

28000

28000

Registration fee

50000

75000

125000

125000

Total (USD)

507663

537205

596290

591749

Passport
Saint Kitts & Nevis citizenship also confers very useful travel document. The passport gives you visa-free access to more than 120 countries, including all 27 members of the EU. If you have British ancestry, a St. Kitts & Nevis passport may also entitle you to live and work in the United Kingdom.
You will need a visa to enter the United States on a St. Kitts passport. However, this is easy if you can prove you have a permanent home outside the United States and you have a clean criminal background.
A St. Kitts & Nevis passport is very useful for opening an offshore bank account and establishing offshore businesses. Unlike the United States, St. Kitts & Nevis doesn't tax on the basis of citizenship.
You would pay tax only on the income you earn on one of the islands of St. Kitts & Nevis. There are no capital gains taxes, wealth taxes, or inheritance taxes of any kind. There are also no exchange controls, and offshore banks and service providers like dealing with St. Kitts & Nevis passport holders. Many banking and investment opportunities will open up to you that would not be available as say, an American citizen.
This is a true investment – that also comes with a first-class passport. You can also use a self-directed IRA or 401K to buy into this investment. However, be careful as you can't legally live in the property until you distribute the property from the tax-sheltered plan and pay income tax on the distribution.
You can re-finance the condo up to 75% less the pro-rated interest from five years. If you purchase the residence for, say, $400,000.00, you can secure financing the next day and they'll return around $225,000 to you. Initially, you'll need the full amount for the Citizenship qualification but then once you refinance, you're only invested $175,000.00. The term of this financing is five years and the sole-security is the residence.
You can put the condo into the rental pool and receive cash flow for five years.
After five years you can sell the residence and keep your passport.
The new buyer can apply for the citizenship program too.
A secure investment: the citizenship program sets a minimum resale value to your property and this year the government raised that minimum by $50,000.00.
As the popularity of the program gains, the government plans to continue to increase this minimum. This may be one of the best investments you could ever make.
If in five years the minimum is $500,000; You've just earned whatever rental income over five years and possibly $100,000.00 in gains off the sale price of the residence.
There's a good return on your money, a good place to accumulate your wealth and a passport from St Kitts and Nevis.
About the Passport and Tax Advantages
St Kitts and Nevis passport allows you to travel to 120 countries visa-free, including the Schengen Countries (Europe), and also to the UK and Canada – as well as many others.
You can also take up residency in all of the CARICOM, which encompasses most Caribbean countries.
If you're from the US, you can rest assured because St. Kitts doesn't notify the US that you're a citizen or have a 2nd passport.
Any real estate you own offshore will not appear in a domestic asset search. Moreover, foreign real estate you own in your name does not need to be reported to the IRS or U.S. Treasury as a "foreign bank, securities, or 'other' financial account."
If you rent out the real estate, the income generated is taxable and is reportable to the IRS.
Renting out the real estate is common for investors in St. Kitts.
Kitts is an amazing opportunity – if you're looking for:
1. A legitimate passport and citizenship that is received instantly
2. High yielding real estate investment
3. The chance to relax for a few months each year on an idyllic tropical island
Buying qualifying real estate in St Kitts and obtaining a second passport as a bonus is a very attractive option for anyone looking for such an opportunity.
How much is your freedom worth to you?
We we work closely with our bank partners in St Kitts & Nevis to assist you in getting funding for your second passport. Obtaining a St Kitts and Nevis citizenship by investment loan with advantageous conditions makes this lifestyle option very attractive to many different kinds of individuals from across the world.
Are you interested in getting funding to apply for St Kitts and Nevis citizenship by investment? Contact us at [email protected] or fill out this form, to know more details, financing conditions and requirements.
If you are ready to get your St Kitts and Nevis Citizenship by Investment, get started at passports.io.